Mrs. Owens is hosting a
linky
party! Go check it out and join in the fun!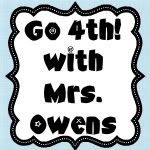 Ten things about me:
1. I love M&M's! I'm addicted! I love plain, peanut, coconut, or peanut butter. I get a small bag every time I check out at the grocery store!
2. I hate pets. I will never allow any animals in my house, except maybe fish.
3. I am
OCD
about organizing things. My kitchen cupboard shelves are even labeled where things are supposed to go!
4. I love to redecorate my house. Where I teach, we are on a year-round schedule so when I am off track for my 3 week breaks I usually find some room in my house to redecorate or add to.
5. I recently took up a liking to
zumba
. I was a bit scared at first because I have no dancing abilities, but I absolutely LOVE it! You should try it if it's near you!
6. I love shoes. I hate wearing them, but I love buying them! :) I have a whole closet full.
7. If asked to go anywhere for dinner I would choose Cafe Rio . . . pork salad, no beans, no rice, shredded lettuce, creamy dressing.
YUMMO
!
8. I am addicted to reality shows. I love the Bachelor, Survivor, Amazing Race, Love in the Wild, etc.
9. I don't like my classroom to be noisy, except for the occasional group work assignment, and even then I get a little
antsy
for it to be over quickly. But we still have a lot of fun!
10. I love blogging about my family, but recently discovered awesome teaching blogs so I joined in the fun.